Notice
This article appears for archival purposes. Any events, programs and/or initiatives mentioned may no longer be applicable.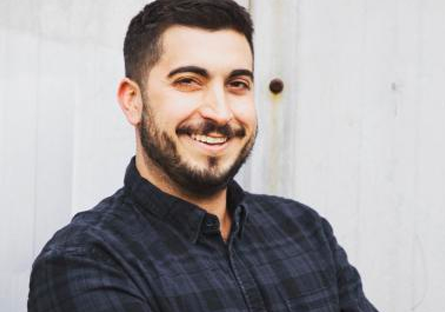 From breaking the Toronto Serial Killer story for Rolling Stone to the investigation of sexual assault cases in South Africa for the New York Times, journalist Joseph Darius Jaafari's journey has taken him about as far from the halls of Scottsdale Community College as one could go. But now that he's returned to Phoenix, he looks back on his time spent at SCC with gratitude: "It gave me the opportunities I needed to move forward in my career."
"My professors at SCC are some of the few that still ring in my head even after ten years of school," he says. "Some of those professors still have the most impact on how I approach things."
Jaafari's investigative reporting has appeared in many of America's premier news outlets since leaving SCC in 2011. His work for Rolling Stone examined military and police responses to queer and gay experiences. His travels to South Africa with The New York Times landed him in the offices of Lawyers Against Abuse, documenting their campaign to support survivors of sexual assault and rape in the city of Diepsloot. 
With The Marshall Project, he covered military and criminal justice, in the same vein as his work with Spotlight covering prisons and police. At VICE, he wrote about how "Lab-Grown Testicles Could One Day Help Injured Soldiers Have Kids"; he went "Inside the Fight for LGBTQ Equality in Wrestling"; and reported that "The Pentagon Is Finally Designing Combat Gear for Women". 
Not to mention his documentary on abuse within the LGBTQ community, "WOOF: A Barkumentary," which won three honorable mentions at international film festivals.
Even that incomplete snapshot of his career should paint a picture of Jaafari as a reporter committed to holding those in power accountable, especially when it comes to the treatment of marginalized groups. "Journalism is finally having their reckoning in giving power to those who never had power," he explains. 
Jaafari's style is uniquely cinematic. His stories unfold in scenes of deliberate tension, complete with fully-realized characters and evocative imagery that often feel like something out of a David Fincher film. It's no surprise to learn that his education at SCC started not with journalism, but with screenwriting. 
"I knew I wanted to do something creative," he recalls, thinking back to his decision to attend SCC. "And everybody knows that if you want to study film, you go to SCC." He loved the storytelling aspect of screenwriting and enrolled in a journalism class on the side, but something about writing fiction never quite rang true. 
"I had a real hard time with the idea of making up stories because I thought that it was a cop-out to write fiction when it's hard to tell someone's real, devastating story," says Jaafari.  "While at SCC I made a point to ask myself 'what stories do I want to tell that are based on someone's real-life?'. Then I started to incorporate those stories into my screenwriting classes, but by my second semester, I said, 'this is something I care deeply about, and I don't want to fictionalize someone's true story.' I really leaned into journalism from there."
"The screenwriting classes at SCC helped me understand plot structure, where to introduce characters, and how to be creative. I think it's an unusual way to go about it, but I think it's served me really well." 
From that foundation, he distinctly remembers one professor's impact on him, how her encouragement and belief in him set him on this path.
"If it wasn't for Julie Knapp pulling me aside and telling me to do more, to try harder and focus on this as my career, I probably wouldn't be doing what I'm doing now… it's all about having that ally that I wouldn't have gotten had I gone straight to a lecture series at a big university. I'm a big proponent of community colleges before university… I really enjoyed that one-on-one attention."
Now a teacher himself, Jaafari aspires to play that role for young journalists. His advice: know your worth, and don't play yourself down. He says he often wasted time and energy feeling lesser than his peers who went to more prestigious universities. "Had I known then that I was probably better than those kids going to a fancy four-year university, I could have saved a lot of money on therapy."
"Build your self-confidence. Train your craft. Be honest. Be ethical. But beyond anything else, be good to yourself."
Jaafari is now an investigative reporter at The Arizona Republic. Find him on Twitter @JosephJaafari.
Learn more about the Scottsdale School of Film+Theatre at SCC.
Learn more about the Journalism program at SCC.