Notice
This article appears for archival purposes. Any events, programs and/or initiatives mentioned may no longer be applicable.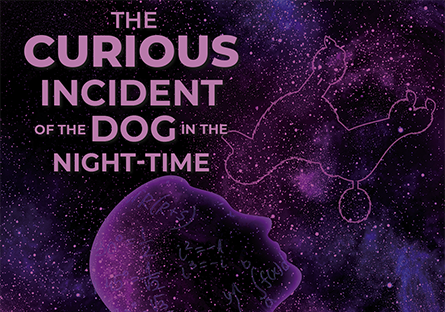 Scottsdale Community College Theatre and Technical Theatre students will showcase their talents in the upcoming production of The Curious Incident of the Dog in the Night-Time, by Simon Stephens.
Fifteen-year-old Christopher has an extraordinary brain; he is exceptionally intelligent but ill-equipped to interpret everyday life. When he falls under suspicion for killing his neighbor's dog, he sets out to identify the true culprit, which leads to an earth-shattering discovery and a journey that will change his life forever. The Curious Incident of the Dog in the Night-Time is being directed by Don K. Williams, head of Performance and Directing at SCC.
Performances are October 21, 22 & 28 at 7:30 p.m.; October 22 & 29 at 2:00 p.m.; and October 28 at 11:00 a.m., in the SCC Performing Arts Center. General admission is $15 and $10 for students. Reserve your seats here.
"Curious Incident is an ideal show to mount here at SCC. It has a great message of inclusion and understanding built into a great 'murder' mystery. In addition, this offers our students the opportunity to develop their acting, directing, producing, costume and set design, lighting and technical theatre skills on a very challenging piece of theatre," said Williams. "A production of this scale and tone gives them a fantastic opportunity to hone their skills and showcase themselves in a safe, but challenging, environment."
"The designs for Curious Incident will give the students the chance to explore some of the oldest Greek technology combined with new technical theatre technology, and we are excited to bring that opportunity to students and our audiences," said Amanda Embry, head of Design and Technical Theatre at SCC.
In addition to Curious Incident, SCC's Theatre program will continue its theme of combining the old with the new through advanced acting and design classes. The Acting 3 class in collaboration with the Advanced Production class (taught by Williams and Embry) will spend this fall working on MacBeth by William Shakespeare setting it in a Mad Max inspired post-apocalyptic world. This project will be shot guerrilla style with an undetermined premiere date in the spring of 2023.
Williams served for four years as the Head of Acting for the Stella Alder Studio/NYU Tisch BFA program and for eight years as a senior acting instructor in the same program. Most recently, Williams led the Los Angeles branch of the Stella Adler Studio (Art of Acting Studio) as Artistic Director and master teacher and also served as the Artistic Director for the award winning HCLAB Theatre Company. In addition to Williams' educational experience, he has been seen on numerous stages around the country and abroad. As a director, Williams has helmed over 150 Off-Broadway, regional and collegiate productions as well as numerous short films and commercials. Williams is a 17-year member of the Screen Actor's Guild.
Embry has been teaching at Scottsdale for over 10 years. She came to SCC from New York City, where she had worked as a professional designer on over 500 productions in theater, opera, dance, musical theatre, film and television. She continues to work as a designer all over the country.
For more information, contact the SCC Theatre Arts Box Office at (480) 423-6356.
Scottsdale School of Film+Theatre
Widely regarded as one of the best film schools in the Southwest U.S., SCC's Scottsdale School of Film+Theatre features two-year hands-on programs that are exceptional and unique among the community colleges in Arizona. From the stage to the soundstage and all points in between, students are immersed in virtually every aspect of the film and theatre disciplines. Through both a theoretical and hands-on approach, each student leaves with not only a degree in their chosen field, but with a keen understanding of how their education is applicable in the professional world. For more information, visit SCC's Scottsdale School of Film+Theatre.