Notice
This article appears for archival purposes. Any events, programs and/or initiatives mentioned may no longer be applicable.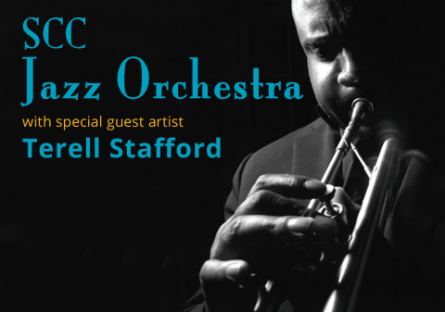 Renowned trumpeter/composer Terell Stafford headlines an exciting evening of performances with the Scottsdale Community College Jazz Orchestra, under the direction of Eric Rasmussen, as well as a small ensemble. The performance takes place 7:30 p.m., Nov. 7, 2021, at The Nash in Phoenix. Stafford's originals and arrangements will be featured in addition to his magnificent playing. 
Stafford is the Director of Jazz Studies and Chair of Instrumental Studies at Temple University, founder and band leader of the Terell Stafford Quintet, and Managing and Artistic Director of the Jazz Orchestra of Philadelphia (JOP). Stafford is renowned in the jazz world as an educator, performer and leader and has received countless award nominations and accolades.
"SCC is thrilled to continue our relationship with The Nash in celebration of their ninth anniversary," said Eric Rasumussen, Director of Instrumental Music at SCC. "Terell Stafford is one of the preeminent jazz trumpet players of his generation, and we are honored to partner our students with him for this concert."
The Nash is located at 110 E. Roosevelt, in Phoenix. The performance is part of The Nash's ninth anniversary weekend which features a variety of musical performances.
Tickets are $40 and $33, and $16 for students. More information and ticket purchase is available at TheNash.org. 
The SCC Music Department offers high-quality musical experience through classroom, private instruction, and performance opportunities. The comprehensive course offerings serve students who are music majors, as well as those who enroll to meet college requirements, or for personal interest. In addition to traditional music performance, SCC offers an innovative curriculum designed to prepare students for careers in today's music industry. We offer comprehensive educational and support classes that enable students to achieve their academic and personal potential.