Notice
This article appears for archival purposes. Any events, programs and/or initiatives mentioned may no longer be applicable.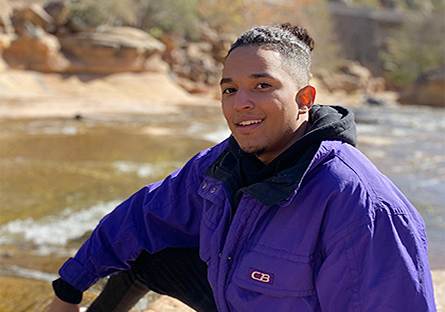 Romeo Barrientos takes the saying, "reach for the stars," seriously. The Scottsdale Community College student was recently accepted into the bi-annual NASA Community College Aerospace Scholars (NCAS) Program. The five-week online course allows students to get a closer look at NASA's unique missions, diverse workforce, and world-class facilities and learn how to develop their talents, interests and passions to become future STEM professionals. 
Barrientos has always loved computers and says seeing such a growing, expansive field felt like more fun than work. "However, because I was color blind, I was never able to become an astronaut, so I figured I could work to help astronauts in different ways," he said. "Seeing some of the technology developed by some of NASA's engineers also motivated me to keep going and remember what lies ahead of me if I work hard. Software engineering also gives me a chance to be flexible with my goals. If I want to work for one company or another field, I am not limited with my options."
And that's exactly what the NCAS program offers: encouragement, challenges and diversity of options for STEM-minded students. It is funded by NASA's Minority University Research and Education Project and encourages community college students to finish their 2-year degree and pursue a 4-year degree or career in a STEM field.
"For the future, I intend to complete my degree at Arizona State University or the University of Southern California," said Barrientos. "With the hopes of completing a research project at one of their facilities. I look forward to being surrounded by such devoted students and teachers."
Following this scholars program, he intends to pursue an internship with NASA's Jet Propulsion Laboratory. After he graduates, he wants to continue the path as a Software Engineer for NASA, developing rover technology. SCC's engineering and computer technology programs certainly provide hands-on experiences for Barrientos too. 
Barrientos chose to attend SCC because when he visited the campus, he felt others' passion in making students successful. "Every corner I turned, there was a faculty member promoting something that could help my life or make me great," he said. "The environment felt honest, caring and I was right. This school brought this opportunity to me, it gave me a space to work hard and strive to be the best. I could not recommend SCC more and for this school and its staff, I am forever grateful."
View SCC's extensive Science, Technology, Engineering and Mathematics programs here.