Notice
This article appears for archival purposes. Any events, programs and/or initiatives mentioned may no longer be applicable.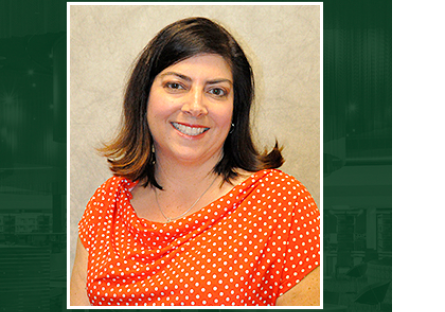 Scottsdale Community College's Dr. Lisa Young has been elected to the Board of Directors for Open Education Global as a representative for North America. 
Open Education Global is a member-based, global, non-profit supporting the development and use of open education around the world to help expand access to education for everyone, improve the quality of education, and to make education more affordable.
Dr. Young is currently the Director of the Center for Teaching and Learning at SCC and has served in higher education for 28 years. She has nearly a decade of experience in open educational resources (OER), which are freely accessible, openly licensed text, media and digital assets for teaching, learning and research. Her passion for the access to these public domain assets is a clear driving force, knowing the power it has to change lives across the world.
Starting as faculty teaching water resources, her interests later expanded to online education and OER. She has delivered many presentations and workshops focusing on OER across the U.S. and abroad. She was involved with the Community College Consortium for OER's Regional Leaders of Open Education Initiative and the White House's Open Government Partnerships discussions of 2014 for the U.S. Government. Additionally, she has served as an OER mentor in the Open Education for a Better World (OE4BW) project. 
"I have been heavily involved in the Community College Consortium for OER for nearly a decade, serving on executive council in a number of roles including co-President," said Dr. Young. "This involvement in the organization has been beneficial for me in developing contacts across North America that have led to many great projects for SCC and Maricopa including the Maricopa Millions project (now called Open Maricopa) and SCC's A to Z degree. Seeing the impact of OER globally, has changed the tapestry of my soul – seeing the impact OER has in other regions of the world and being able to collaborate on global projects. I get to see the amazing impact that open educational resources has on equity, inclusiveness, and access to knowledge."
Her new role as OEG board member provides Dr. Young with an opportunity to learn from others so that she can better apply these new ideas to the work at SCC and within the Maricopa Community College District. By using OER, Dr. Young is able to customize material specifically for her student population by geographic region. With the open licensing that OER provides, she is able to share this information with others across the globe and they can adapt the materials for their needs as well. All while reducing costs and increasing access to the materials.
"I would like to leverage my background in analytics and research to specifically aid in the direction of improving the quality of education, student success, and affordability research and metrics," Dr. Young said. 
OER isn't new to Dr. Young. She has been using OER for some time and incorporates them in the classroom in many different ways. "I am able to use openly licensed OER textbooks which provide great resources to my students. I have been able to adapt them specifically for my students and for the needs of the arid southwest here in Arizona. Additionally, I have been able to create open pedagogy assignment in which my students construct and create materials for other students to use in the future."
"As an educator, I believe that everyone can learn. That it is up to us as educators to provide the best resources that we can to our students," Dr. Young said.