Notice
This article appears for archival purposes. Any events, programs and/or initiatives mentioned may no longer be applicable.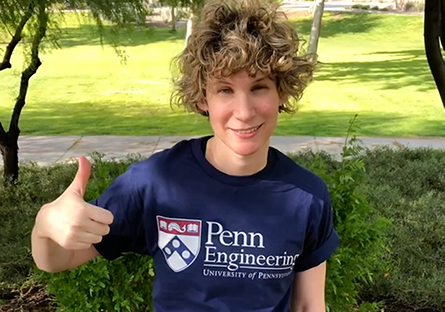 Jay Connolly has had a big year, and it's only half over. The Scottsdale Community College student is majoring in Cybersecurity and Computer Science and just got accepted into the Ivy League University of Pennsylvania. But that's not all. That same day, he learned he was chosen for an internship at NASA (one of only six openings) that focuses on cybersecurity at the AMES Research Center. 
Connolly will graduate in Fall 2021 with an Associate in Applied Science (AAS) in Cybersecurity and hopes to pursue a career in cybersecurity or data science. The SCC program is designed to meet the training needs of government and industry employees and covers a variety of information security technologies and structured languages. 
"I like working with a large set of data and problem-solving," he said. But fear could have held Connolly back. He has autism, dyslexia and a weakened immune system from a tumor last summer. "I was terrified of college and math. Although, what I've learned is that you can succeed in college. It takes hard work and dedication, but I want high school students to know that you can still be successful. Even if you screwed up in high school with your classes, there is still a chance you can make it." 
Connolly has shared that sentiment as often as possible – impacting students with a message of encouragement, confidence and perseverance. He was a panelist speaker at Girls Get IT last fall, an event co-hosted by SCC that encourages high schools girls to pursue a career in information technology
He can't thank his SCC professors Daniel Nearing and William Meacham, Math and Computer Science faculty, enough for preparing him for the NASA opportunity. 
"The SCC faculty have always stood by me and offered great STEM student support," he said. "Mr. Meacham brought tutors in the classroom to address any issues students were having. He is very dedicated to his students, he cares for his students. Mr. Nearing is an excellent math instructor. Before his class, I had never seen trig or geometry. He spent a lot of time helping me understand trigonometry. I wouldn't have been able to get straight A's in the calculus series (Calc 1- Calc 3) without the foundation he gave me in trigonometry."
Connolly also appreciates the SCC Disability Resources and Services department for all their support.
"In high school, I was a C student" said Connolly. "If you do things outside the box, or if you do interesting things, you will stand out from others."
Learn more about SCC's Cybersecurity program here.