Notice
This article appears for archival purposes. Any events, programs and/or initiatives mentioned may no longer be applicable.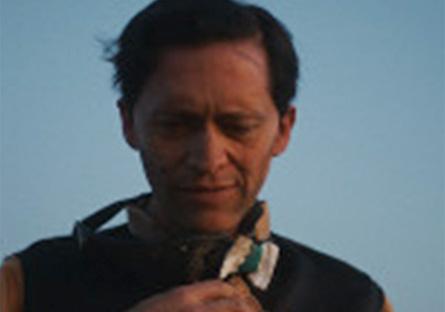 When movie producer Nancy Schafer was preparing to shoot her latest feature film, "Jockey", in Phoenix last year, she sought out highly skilled professionals who are passionate and excellent at what they do.
"We had two excellent staffers come from the Scottsdale School of Film+Theatre program," she said. "I would definitely hire from the school again if I am ever shooting in Phoenix. Dedicated and hard-working, these two went above and beyond and were part of a small crew that made the shoot for 'Jockey' so special and made our film work."
The movie follows the story of an aging jockey, played by Clifton Collins Jr., who is aspiring for one last win for his longtime trainer. "Jockey" premiered at the prestigious 2021 Sundance Film Festival on January 31, 2021 in the U.S. Dramatic Competition section and is being distributed by Sony Pictures Classics.
One of the staffers from the Scottsdale School of Film+Theatre was Leonard Leon, a 2020 graduate of the Motion Picture and Television Production program. He worked as the Art Department production assistant for "Jockey" where his duties were to help the production designer set up the locations prior to filming. This included set dressing a stable, an Airstream trailer, and a lake that was in the middle of a horse racetrack.
Leon commented, "I love learning from people. Even though I was working with the production designer, I would sometimes help the director, producers, actors, cinematographer, and light technician (gaffer). I learned from everyone on set, and it was a great experience."
"Our mission at the Scottsdale School of Film+Theatre is to not only provide a robust academic experience, but also to prepare graduates to step into entry-level positions that help them get a foothold in the film and theatre industries right out of school," commented Department Chair Bill True. "We're proud when we hear stories like Nancy's…that our students held their own with the professionals on set. It signals we're on the right track when it comes to preparing our students to succeed in this very competitive industry."
"I would totally recommend the Scottsdale School of Film+Theatre, added Leon. "SCC's Film program is the school that people come to for film, not only in Arizona, but across the Southwest."
Josh Penaflorida graduated from SCC in 2020 with the highest distinction for his Motion Picture/Television Production degree.
As the on-set production assistant for "Jockey", he prepared the daily call sheets and slides for the cast and crew, handling necessary paperwork, and facilitating daily production needs. He also assisted with rigging and setting up lights with the gaffer, dressing sets with the art department, and assisting the camera team with the transportation and set up of their gear, among others. As an aspiring producer, he was very excited to be given the chance to work directly with the film's director and producers and learned a lot from the experience.
In addition to traveling and the opportunity to meet amazing people along the way, Penaflorida said he likes the variety in his daily experiences on set. "One day, you could be shutting down an entire street to film a stunt sequence, the next day you could be in a helicopter getting shots of the skyline, or another day you could be shooting on a live horse racing track (like the one in "Jockey").
His experience at SCC exposed him to the inner workings of the film industry and provided him with the essential skills to successfully see a project from pre-production to production and then post-production.
"The capstone project gave me a great learning opportunity to experience what it's like to produce a film. The skills and knowledge I learned from SCC helped prepare me in my career as a producer. Without these, I never would have known what it's like to bring a film production together."
SCC's Motion Picture Production pathway helps introduce students to the latest media technologies and provide them with real-world movie-making projects on which to hone their skills. From pre-production (including screenwriting, budgeting, and scheduling) to production (directing, cinematography, and production sound) and on to post-production (non-linear editing and advanced editing techniques using animation), the College offers classes for all interests and skillsets. Learn more about the Motion Picture Production Pathway here.