Notice
This article appears for archival purposes. Any events, programs and/or initiatives mentioned may no longer be applicable.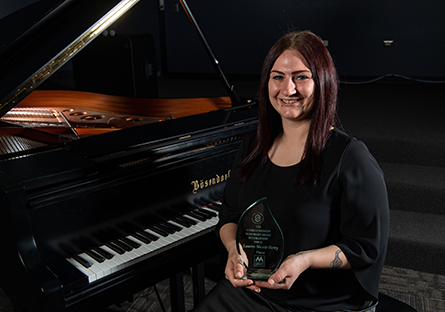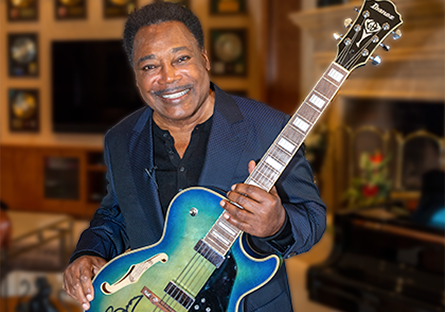 Scottsdale Community College's annual Music Department Showcase concert will recognize this year's George Benson Honorary Scholarship awardee with an online video award presentation and special auction available for viewing at 8 p.m., May 14, 2021. (See link below).
Lauren Nicole Berry developed an interest in music at age 6. She began taking piano lessons from the neighborhood piano teacher and eventually went on to work with other piano teachers in the Valley as she grew. In middle school, Berry played clarinet and saxophone alongside her piano lessons. Her passion for piano and music theory widened when she started incorporating other instruments and saw how they relate.
In high school, she joined the jazz band and explored a world outside the structure of classical music. She also took two years of guitar, which added to her repertoire of instruments. Baroque and Romantic period music was the first passion Berry discovered in life. The second passion she discovered was her desire to help others.
After high school, she kept playing music on her own, exploring other styles of piano while she graduated from massage therapy school and began her career. It was at this time that Berry also began assisting her grandmother part-time as her dementia and Parkinson's progressed. Years later, Berry was in a car accident that shattered her pelvis and dislocated her hip, which ended her career in helping others through massage therapy. The one thing that carried her through the physical and emotional healing process was playing her piano.
"My piano was given to me by my grandma, Mary Ann. She played throughout her life, starting with a church organ. It is such an honor to share this love of playing the piano with her. Her piano is one of my most cherished possessions," said Berry.
Once she learned to walk again, she returned to SCC in 2018. In 2019, Berry began working with the music and piano departments and declared her desire to channel the passion for helping people into the field of music therapy. With Arizona State University (ASU) as her next step, Berry trained with Dr. Christine Novak and worked on polishing her pieces for her audition.
"God willing, I will be entering the Music Therapy program at ASU for the Fall 2021 semester," said Berry. "My life's path has not always been clear, but I know in my heart that my drive for knowledge and passion for music/life will prevail. I look forward to further connecting with the community around me and seeing how I can be of service."
Research has shown the many benefits of music therapy with special populations. Lauren is looking forward to working with the autism community, hospices, and those in institutions to share the healing nature of music.
Berry's grit, determination and passion for others is exactly what inspired the George Benson Honorary Scholarship. Benson is a legend of jazz, R&B, and pop music. The formation of his legacy has included reaching No. 1 on the Billboard charts, 10 Grammy Awards and a star has been placed in his honor on the Hollywood Walk of Fame. Benson was a musical prodigy during his childhood. He made his first record at the age of 9. Benson understands the value of exploring the musical arts during early development and has supported the sponsorship of students at SCC since 2011. For many students, a scholarship is often a deciding factor on whether they can continue their education at SCC and beyond.
The 10th Annual George Benson Honorary Scholarship and SCC Music Department Showcase premiers at 8 p.m., May 14 on SCC's YouTube channel. The event features a performance by Berry followed by a visit to Benson's home where he presents the award and talks about his "coming up" story.
View the video presentation here.
A new 2021 Ibanez GB10em autographed guitar is being offered via a special auction (guitar donated by Ibanez). Interested bidders will get to see Benson sign the guitar on which they're bidding. All proceeds from the auction go to the SCC Music Department Scholarship Fund. Place a bid and learn more about the auction here.
Want to express your appreciation for the event? Please make a tip donation here.
It is the mission of SCC's Music Advisory Committee to provide, enhance, encourage, and support a positive and proactive musically enriched environment and experience through music education, community awareness, and public outreach for aspiring, future musicians and the community at large.
For more information about this event or the Music Program visit the SCC Music Department.