Notice
This article appears for archival purposes. Any events, programs and/or initiatives mentioned may no longer be applicable.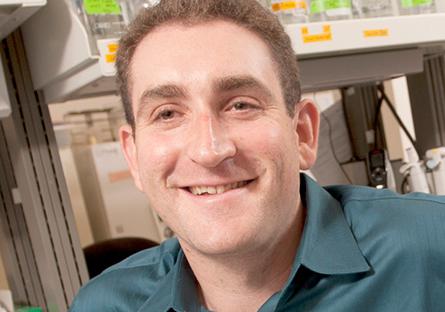 Artichoke Alumni Dr. Jeremy Babendure started his STEM studies as a high school student, taking afternoon classes at Scottsdale Community College.
Dr. Jeremy Babendure is the Executive Director of the SciTech Institute, a nonprofit organization focused on creating a science, technology, engineering, and math (STEM) ecosystem in rural and urban Arizona through partnerships and collaboration. He's an Associate Research Professor at the School for the Future of Innovation in Society, and a research fellow at the Institute for Learning Innovation. In addition, his desire to foster community engagement in the sciences led to his continued involvement with ScienceBridge, a program designed to increase the number and diversity of students involved in STEM studies.
Babendure earned his undergraduate degree in biochemistry from Arizona State University and received his Doctorate in Biomedical Sciences from the University of California, San Diego. But Babendure began his STEM pathway as a high school student, concurrently taking math, physics, and economics classes at Scottsdale Community College (SCC).
Babendure enrolled in his first college course the summer of his fourteenth year. "I took a lot of math courses," he recalled. "I started with Algebra II. Eventually, I was a year ahead in math." At that time, upper-level mathematics weren't offered in high school; the curriculum stopped at Calculus II, so he enrolled in Calc III (Differential Equations) at SCC. 
Before long, Babendure branched out from mathematics. He still remembers his exceptional physics instructor, Dr. Rawlings. "He really thought about the most effective ways to teach physics. It was the most challenging and rewarding class." After class, Babendure would spend all afternoon in the tutoring center. "I had a lot of interaction with classmates and employees at the center. It really facilitated a community." He appreciated SCC's smaller class sizes. His introductory courses at SCC had 20-30 students rather than 200 in a lecture hall. "My university experience didn't have that intimacy until I got to the upper-level courses."
Summer school went so well that Babendure enrolled in evening classes. He took micro- and macroeconomics. By his senior year, half his courses were at SCC. Babendure enrolled in SCC's English 101 and 102, along with a course on the U.S. Constitution. He'd spend his mornings at SCC and his afternoons at Chaparral High School. He estimates he had over 50 credit hours by the time he graduated high school. 
Babendure is convinced that attending Scottsdale Community College made his learning experience much stronger and better prepared him to enter Arizona State University and, subsequently, UC San Diego. "The environment was welcoming," he said. "The instructors were phenomenal in terms of really supporting you. I wasn't naturally gifted at everything. I had to work at it. The great thing about SCC was it provided the space that allowed me to progress." 
He's quick to recommend dual enrollment at community college to current high school students, and, when his children were in high school, he encouraged them to follow this path. According to Babendure, the program has only improved. "The articulation between transferring is now much more defined."