Wednesday, September 4, 2019
Notice
This article appears for archival purposes. Any events, programs and/or initiatives mentioned may no longer be applicable.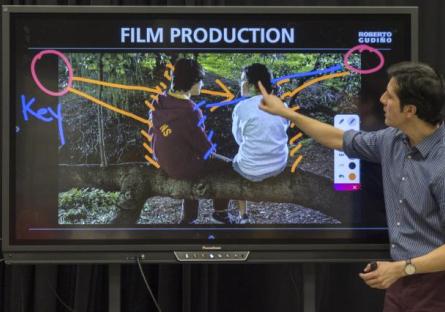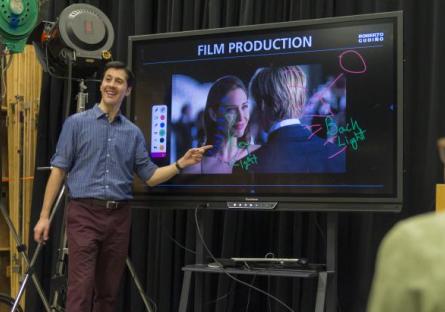 Roberto Gudino, Faculty and Head of Film Production of the Scottsdale School of Film+Theatre at Scottsdale Community College (SCC), was awarded a new $6,600 75″ 4K Promethean Board for his presentation on technology in education design at the mindSpark Learning EdTech Institute, in August.
"I am honored and humbled to have been awarded this state-of-the-art Promethean Board for use in the classroom," said Gudino. "I am pleased to donate my award to the college and district to help prepare our students for success in the 21st Century."
Professor Gudino is a first-generation college student who earned his MFA in Film Production at UCLA. He also earned his Master of Science in Mass Communication from Florida International University, a BFA in Film and Television from the University of Arizona, and is a proud graduate of Cochise Community College in Douglas, Arizona, his hometown.
His goal is to help students acquire the skills necessary to succeed, especially in an ever-changing world of technology. "My research centers on applying new, accessible media production technologies to the empowerment of underrepresented communities, both in front of and behind the camera," said Gudino. "I hope to help give diverse filmmakers a voice through digital media and video production."
"We are all very proud of Roberto and the work he is doing here at SCC," said Interim President Chris Haines. "His students are receiving innovative and relevant, real world instruction and experience. We congratulate him on this award and thank him for making a difference in the lives of his students every day."
Professor Gudino was one of the participants at the mindSpark Learning EdTech Institute, which is designed to equip teachers with technology tools to best prepare their students to enhance their skills for the modern workforce. The two-day workshop required presentations of how tech would be implemented into their classroom, giving teachers tangible materials that they had built in a day to have for future lessons (Gatewood).
SCC students in Gudino's Lighting for Film and Television (TCM118) and Advanced Cinematography (TCM217) courses will be able to use the Promethean Board for viewing live lighting demonstrations, as well as creating scene breakdowns for lighting analysis, composition and movement. They will also have the ability to add annotations to their presentations and use the Promethean Board as a high-resolution 4K monitor during filming.
Gudino's concern for how best to equip his students with the skills they will need for a competitive workforce drives his desire to learn more about technology use in the classroom. "I'm a lifelong learner and hope to continue honing my skills in EdTech and film production technologies to help give our students the most authentic real-life experiences in the classroom," said Gudino. "My goal is to help bridge the digital divide."
"This honor allows Professor Gudino to continue in his commitment to providing access and opportunities to SCC film students," said Dr. Stephanie J. Fujii, Vice President of Academic Affairs at SCC. "His work as an educator advocating equity will only be enhanced. We are pleased and proud to have him as a member of the SCC faculty."
Find additional information about SCC's Motion Picture/Television Production degree and certificate programs here.
Article: Marker Mic Drop Moment #3: Roberto Gudiño, Faculty and Head of Production (Scottsdale Community College, AZ)