Notice
This article appears for archival purposes. Any events, programs and/or initiatives mentioned may no longer be applicable.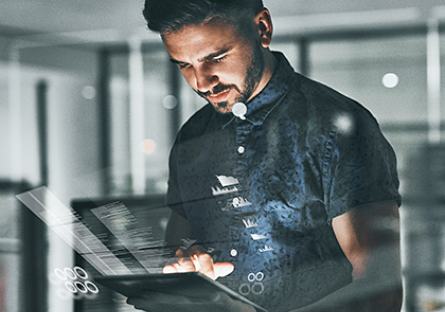 As 2021 begins, many of us continue to work from home or are looking for new employment opportunities. And although very few jobs are truly guaranteed to withstand a large scale economic disruption, there are several roles that have tended to remain steady (based on data from 2001, post 9/11 and the Great Recession of 2008). If you are exploring alternate career paths or are looking to start from scratch, take the first step and continue reading for some useful information!  
Researching new career paths can be exciting and daunting all at the same time. You can do it! There are many resources available, including training programs that can quickly prepare you for something new! As you consider your "what's next", there are a few things you may want to consider:
Realizing we all perform better in roles we enjoy, open your mind to ways you can weave what you enjoy into one of the employment areas listed below. It may not be obvious at first. Perhaps talk or brainstorm with a friend, family member or co-worker to see what they think. If you can find that link/connection between what you really enjoy and what role interests you most, it'll set you up for sustained success along your professional journey.
Determine what skills or training you will need to hone in on in order to make a transition into a potentially new field. Consider opportunities to obtain some training/education now — maybe a certificate, or a degree or maybe neither — but some training that will give you enough of a foundation to jump in to do the job at hand. Reminder: any additional training you seek and complete will give you an advantage compared to your competition. And so many training opportunities are even more accessible now given our transition to more of a virtual world over the last eight months.
Identify transferable skills that you may already possess that would fit into another career path. Customer service skills and experience (whether in retail, hospitality, culinary arts, sales, etc.) are quite marketable translating into what may seem like unexpected paths — financial services, for one! When financial service giants are recruiting, one of the first things they look for is customer service skills or prior service-oriented professional experience. Although it may not be obvious at first, think about what other transferable skills you might have that could prove valuable in another industry.
Explore funding sources that may cover costs for you to obtain up-skilling or re-skilling. For example, the Federal Workforce Innovation and Opportunity Act (also known as WIOA) covers tuition costs for approved training programs that lead to meaningful employment. At Scottsdale Community College, several programs are approved for WIOA funding: Computer System Support, Securities Industry Essentials (SIE) exam prep training program (leading to a path in financial services), Social Media Marketing, and Risk Management & Insurance Studies.  
Manage expectations. What you may have been doing before 2020, or were on track to be doing, may have drastically changed. It's equally important to be assertive and confident in the search to find your "next" job as it is to understand that every employer is trying to survive. Be open to opportunities and offers knowing that they are often starting points and can grow over time and in your favor!
You are your best advocate! Use your network and your voice to share what expertise you bring to the table. This is not the time to be shy — this is the time to use what's known as the humblebrag, as a matter of fact!  
So what are the jobs that have a higher probability of sustaining economic challenges? After searching through half a dozen different expert sites (including Glassdoor, Indeed.com, Time, LinkedIn, Money Crashers, and MSN), this list is a compilation of the fields that came up repeatedly, demonstrating they tend to offer more longevity.
1) Healthcare Professionals: including physicians, nurses, physician assistants, nurse aides, physical therapists, psychologists, medical assistants, pharmacists, pharmacy techs, community healthcare workers, etc.
2) Educational Professionals: includes teachers (K-12), professors, academic advisors/guidance counselors, librarians/archivists, administrators, instructional coordinators and teacher aides.
3) Information Technology: includes database administrators, network administrators, software engineers/developers, systems operators/administrators, programmers and desk-side support/help desk.
4) Law Enforcement: including police officers and sheriff's deputies, firefighters/fire inspectors/investigators, corrections workers, and detectives/criminal investigators.
5) Social Service professionals: including social and community service managers, social workers, human service assistants, childcare workers, and mental health/substance abuse counselors.
6) Financial Services: accountants, actuaries, auditors and insurance providers/underwriters/ appraisers.
7) Funeral Directors
8) Public Services: including utility workers, court and municipal workers, transit workers and recreation managers.
9) Public Relations and Marketing professionals (especially now that so much of our world is operating in an online environment filled with digital media and marketing!)
10) Veterinarians
11) Attorneys
Scottsdale Community College offers 100+ degree and certificate options that prepare students for a wide variety of careers and allow working professionals the opportunity to gain new skills in their current role for advancement or recareering. See the complete list of programs available here.
The future of work has already dramatically transformed as a result of everything that has happened in 2020. New opportunities are evolving in response to and as a result of all of this change; and yet, roles from the past will likely circle back around to flourish once again. Leverage this time and invest in yourself — you are worth it!